Figured I would offer this up to any smoked-meat members first.
Got this a year or so ago and had planned to use it as my fancy thermometer for a big reach in cooler I was going to convert into a smoker, turns out I can't remove the insulation inside the cooler so it is only suitable for a cold smoker.
Brief description of the Fluke thermo.
Laboratory accuracy. Wherever you go. Fluke's Rugged Model 52 Thermometers offer high accuracy with fast response times to quickly capture your measurement and show you trends. Features: Relative time clock on MIN, MAX, and AVG provides a time reference for major events Electronic Offset function allows compensation of thermocouple errors to maximize overall accuracy Measures J, K, T, and E-types of thermocouples Readout in °C, °F, or Kelvin (K) Splash and dust resistant case protected by impact absorbing holster User-friendly front panel is easy to set up and operate Sleep mode increases battery life; typical 1000-hour battery life Battery door allows easy battery replacement without breaking the calibration seal.
http://www.fluke.com/fluke/usen/Elec....htm?PID=56085
Temperature range is from below -300F to over 2,000F so it could even be used to probe the heat inside your firebox.
Testing in boiling water, water begins to boil at 100C and at 212F
Tested against my Et-73 in a pot of hot water for accuracy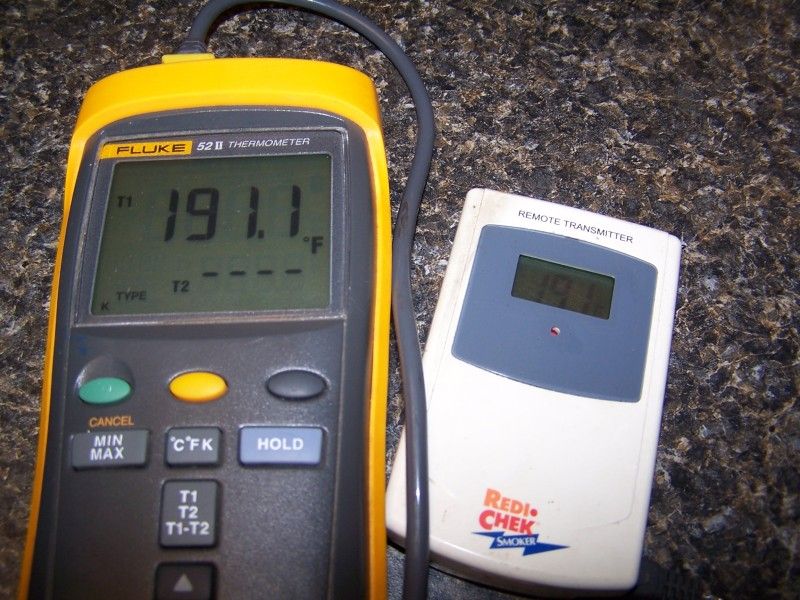 What's included
The Fluke 52 II thermometer and 2 probes
These start at around $280 new online.
Asking $150. Free shipping.
Please send a PM or email if interested.