First, thanks for all them great suggestions. Am going to keep a couple of them for future use. Wish I had a bit more bird as that cheese log sounds pretty dammit good.
Not going to go into detail on the cook, you can get that from the directions. Rather, just a few pics of the process.
First off, we take 2 Pheasant breasts from my neighbor who thought he had plenty of time left for them cook. When he checked on them, they are beyond gone. Way overdone. Bone dry.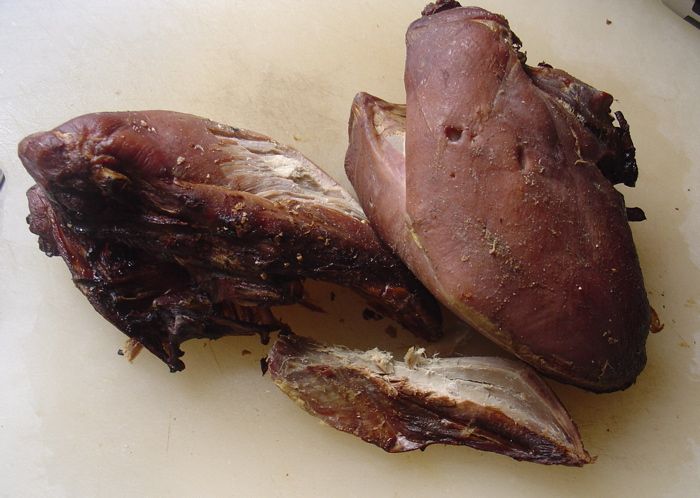 Cut off the meat and ended up with just a tad over 3/4#.
Saute veggies.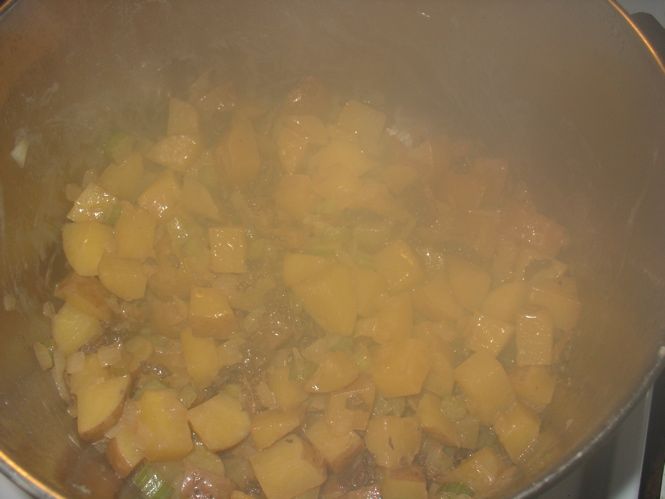 Everything BUT the cheese added.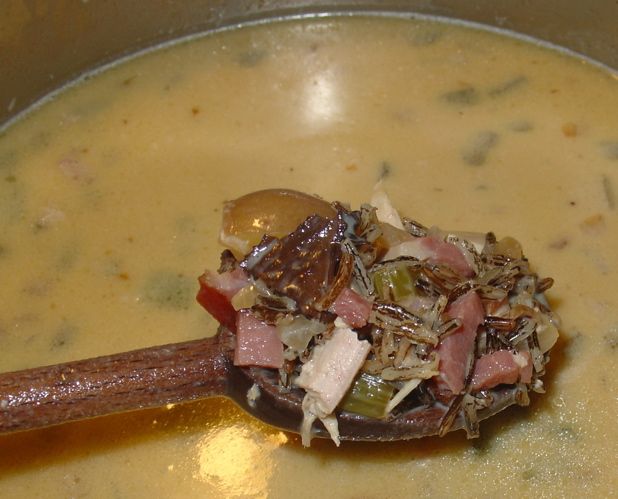 Now onto the secret ingredient. Cheese. Not just any cheese. Oh no. This cheese is made from sacred cows that pasture high up in the mountains and drink only spring water. Each night, the cows are massaged until they doze off naturally. In the morning, they are milked BY hand by the virgins of the town. I present to you, Velveeta.......
Last step, cheese added along with Parsley. Stir until melted and let sit a bit.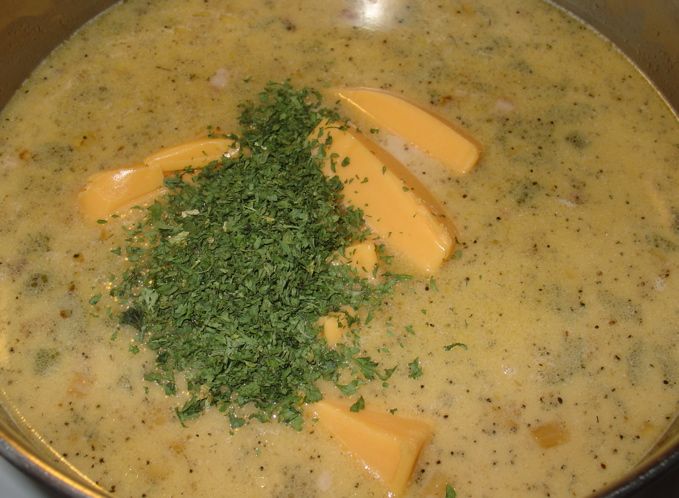 And a bowl for the chef. This was in fact, 2 different soups my wife makes. A wild rice soup and a potato soup. The addition of game, bacon and shrooms was my idea. All in all, it came out pretty good.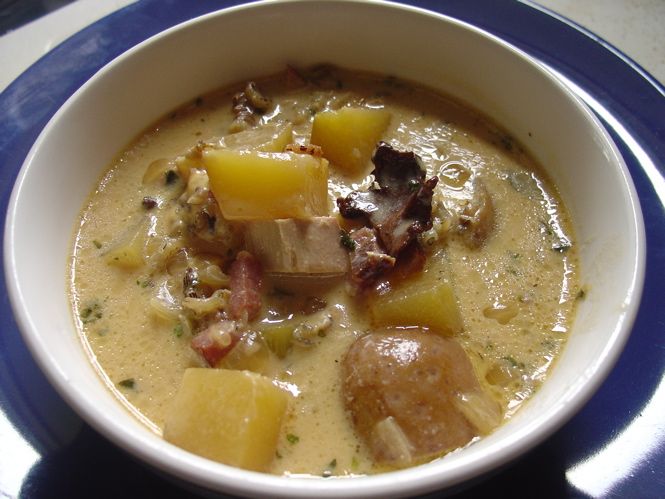 That's it, thanks for lookin....here's the recipe if you care to make it.
If you make you own chicken stock, use it in place of the store bought broth, that's what I did.
Salvaged Pheasant Soup.
5 Medium Red Potatoes, diced.
1 Large Onion, diced fine.
4 Stalks Celery, diced fine.
2/3 Cup Wild Mushrooms, chopped.
4 Tbl Butter
3 Cans 14.5oz Chicken Broth.
1 Cup Wild Rice.
4 Cups Water.
1/2 # Bacon, diced.
42oz Milk
3/4 - 1 # Smoked Pheasant or poultry.
1 Can Evaporated Milk.
2 1/2 Cups Velveeta Cheese
1 Tbl Parsley
In pan #1, Saute potatoes, celery, mushrooms and onion in butter. Add 2 of the 3 cans chicken broth and simmer 1 hour until potatoes are soft.
Cook rice in 4 cups water with 1 tsp salt until kernels start to open. Drain excess liquid and transfer to bowl. Cover to keep warm. Fry bacon in same pan and drain fat.
In a large sauce pan, add last can of broth, milk, evaporated milk and Pheasant. Heat until hot. Add contents from pan #1 plus cheese. Stir until melted. Add rice and parsley and stir.
Remove from heat, cover and let sit for 15 minutes.