Well, I finally completed my project. I took a brand new, fresh out of the box MES Elite 30 analog and converted it into a snack stick monster. Hence the MES custom SS model name (SS stands for Sticks and Sausage) Here is what I modded:
1) insulate that dead air space between the inner liner and main body shell with Roxul "rock wool" high temp insulation.
2) increase air inlet opening to 2 1/8" diameter
3) add new air exhaust exit in top center of smoker also 2 1/8" diameter
4) install stainless steel smoke stack with damper in top of smoker
5) plug the stock 5/8" exhaust port with a heat safe silicone plug. Plug will be center drilled and slit on one side to allow temp probe wires to go into smoke chamber
6) replace the stripped sheet metal screws with stainless steel 10-32 x 1/2" screws that mount into stainless steel rivet nuts installed in the main body structural members (use existing holes as pilot holes).
7) add more rack holders above existing rack holders, total of 8 racks can be installed.
8) use that upper structural member and rivet nuts to help hold the inner liner against main body and mount the lower portion of the new rack holders.
9) in stall a rivet nut in the inner liner to hold the top of the new rack holders (not in structural member, just inner liner).
10) add a Auber Instruments PID controller to control the pit temp with a pellet tray for smoke source (remember my goal is snack sticks and sausage so smoking temps will be 180* or less).
Stock out of the box, 3 racks with space for 2 more, and a itty bitty air inlet and smoke exhaust: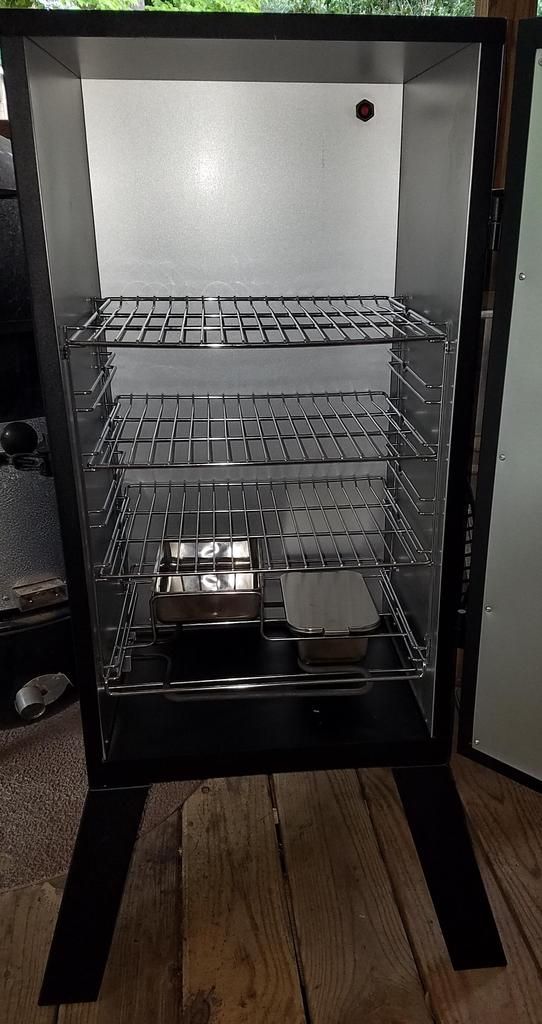 After the mods!!!!! Rock wool insulation all sides, top and door. 2 1/8" air inlet and top center exhaust. Stainless exhaust chimney with damper control, 8 total smoking racks for approximately 1,400 sq inches of rack space, and a PID control (PID controller not in photo, its a plug and play box).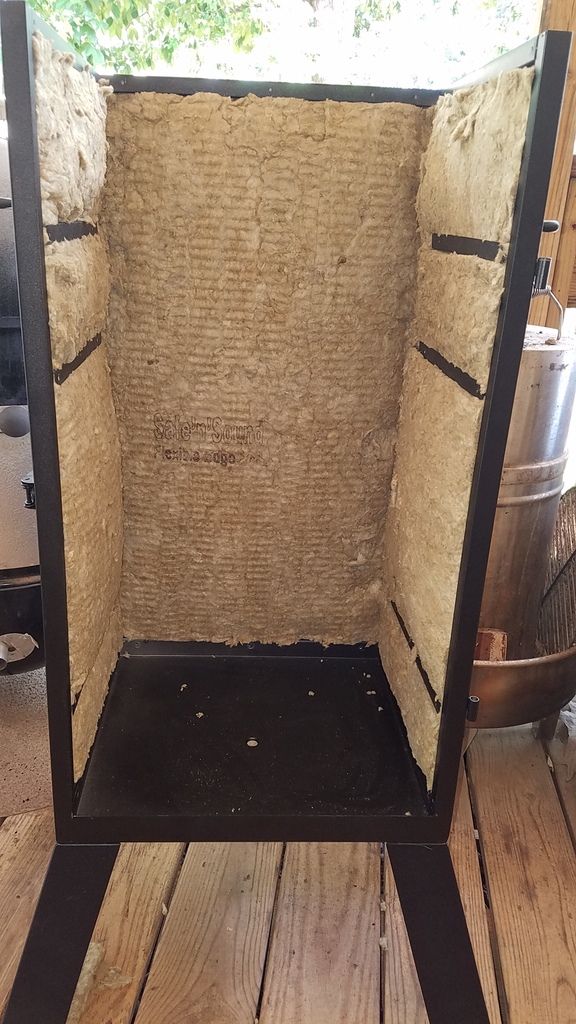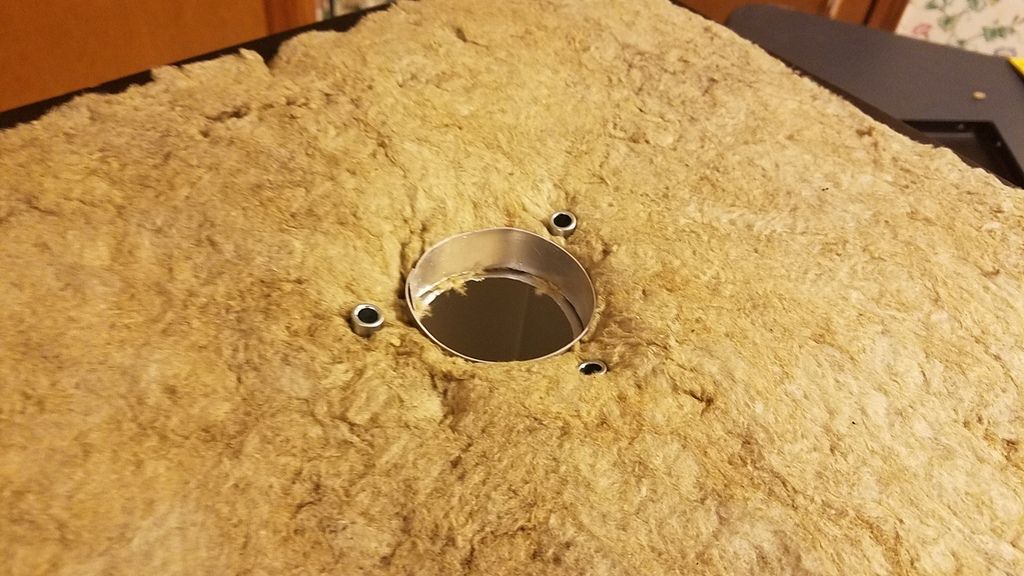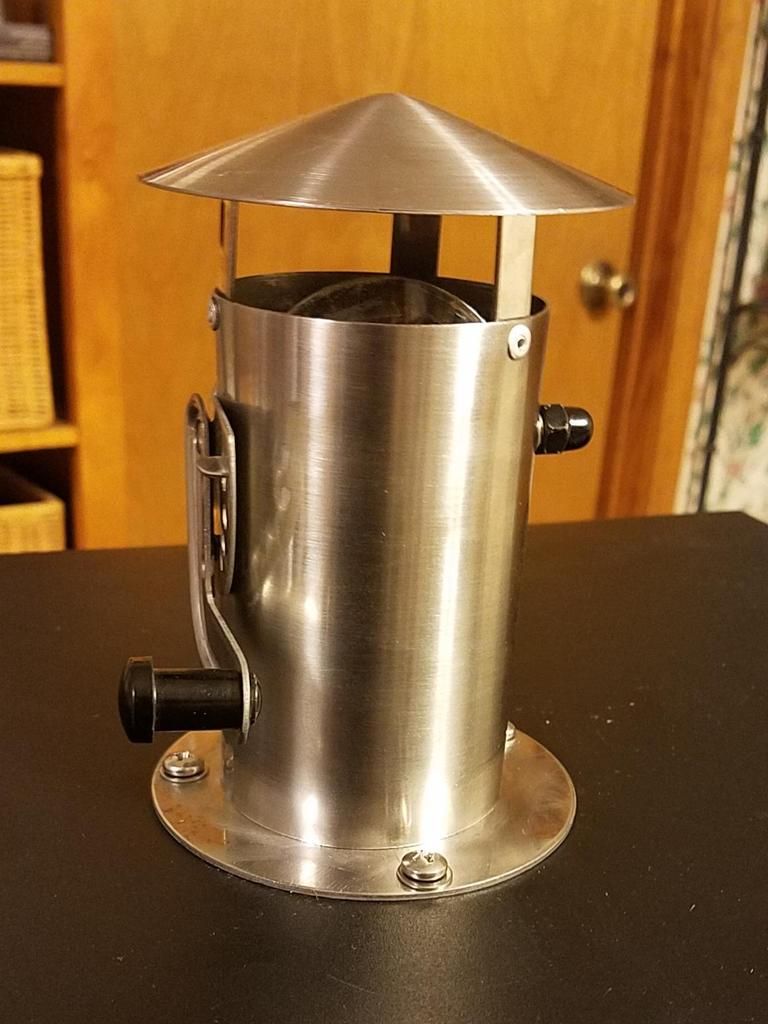 Did a trial run on the analog control tonight, no smoke. Held 225* like a rock, so the insulation made a big difference (and that was with the stack vent 100% open). I can still get to 375* in stock configuration if I want, but I have other smokers for higher temp smokes, butts, chicken, etc... I wanted this to be a sausage and snack stick cabinet. I will run a test with the pellet tray and the PID controller tomorrow. I don't think pellet tray placement will be super critical with that large air inlet and keeping temps at 180* or below.
In my original design thoughts I had considered putting a baffle plate about 1" below the exhaust opening to force the air to be more spread out and prevent the straight in, up and straight out. But I'm thinking the meat and drip pan will pretty much force the heated air and smoke to flow through the entire chamber without that plate. If I decide to try it, I just need to swap out the chimney bolts for longer ones and use them to hold the plate as well.
I have a ton of photos of the mod and inner construction of this entry level, inexpensive MES smoker. I took it totally apart down the the individual panels for this mod.
So far, I'm pretty happy with the way this came out.