Well, I'm out of snack sticks so it's time to make some more. Some of the gang at the office asked about the "rustic" jerky rounds, so I figured that meat recipe is what I'm using. But I'm going to change things up this time. Instead of taking balls of the marinaded meat and pressing them flat before dehydrating, I'm going to put the marinaded meat into the stuffer and make dehydrated casing-less sticks.
This mix uses the Smoking Gun Jerky Marinade as a base and is "doctored" up a little. Recipe is for 5 pounds, and I had a 10 pound log of 90% lean beef from Sam's Club so I made it in two batches. It is also easier to mix a 5 pound batch in my large stainless bowl instead of dealing with all 10 pounds at once.
5 pounds of 90% lean ground beef (you can use leaner or venison if you have it)
12 liquid ounces of Smoking Gun Jerky Marinade
2 tsp crushed black pepper
2 tsp crushed red pepper
2 tsp onion powder
2 tsp liquid hickory smoke
1 tsp of Cure #1 (pink salt)
I ran the crushed red pepper through my spice grinder to break it up a little finer. Not into a powder, just a lot finer than as it normally is (CRP is the same as pizza peppers).
Mixed each 5 pound batch by hand and then stored overnight in the fridge in a 6 liter food container. Two days later (got side tracked the next day), I loaded the manual stuffer and used a 1/2" tube to extrude casing-less sticks which were laid one at a time on the dehydrator trays. The 10 pounds of meat filled about 7 1/2 of my LEM 10 tray dehydrator trays.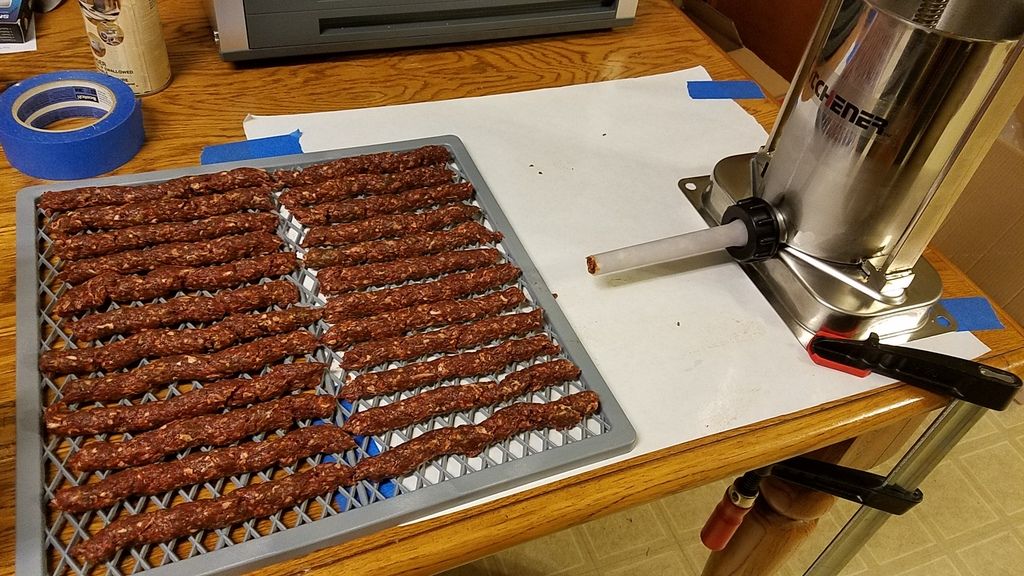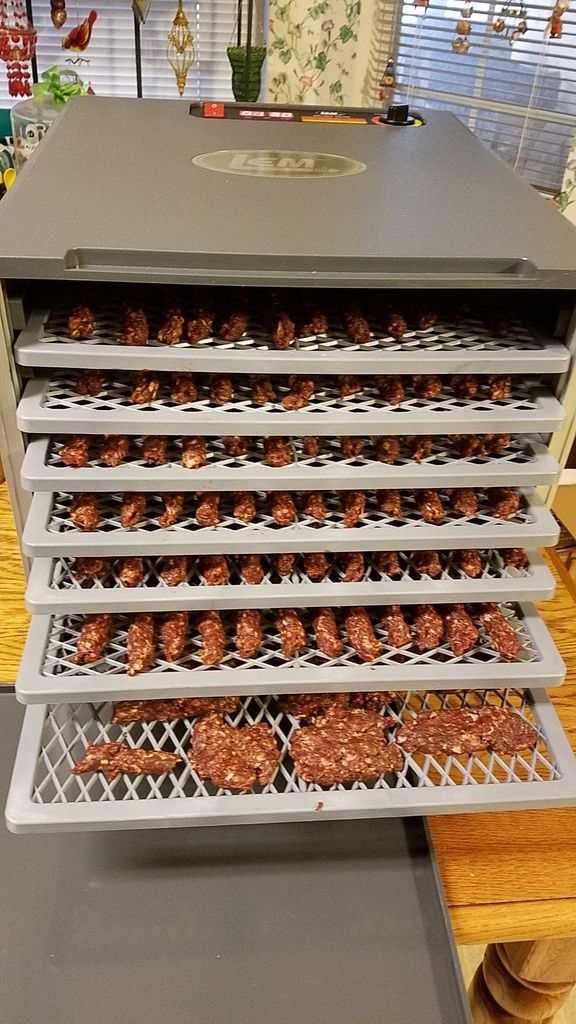 Dehydrated at 125* for 1 1/2 hours to set the outer layer of meat, then cranked it to 145* for about 4 hours, then to 155* to finish. Total dryer time was about 8 1/2 hours. This is a very wet meat mix so it took longer than some of my other recipes.
Final verdict. Yep, they are rustic looking. It's sort of funny, but the wife said the short pieces looked like "dog turds" and anyone who has had a smaller dog will know what I mean. They were a hit at the office, and yes, the name "dog turd jerky" has now officially stuck.