I put this in the Pulled Pork section but it's also a kitchen candidate. However, this was the old traditional pulled pork we're all so familiar with. We had this for the first time last night and I loved it so much, I told my wife I'd smoke some pulled pork just so we can use it with this recipe.
My wife found this recipe and did this last night in the kitchen. I'll admit it's probably the best pasta sauce I have ever had so I wanted to post it. Here's the recipe along with her notes:
"Rigatoni & Slow Simmered Sunday Ragu with Joe's Kansas City Bar-B-Que Pulled Pork
This is the old-fashioned sauce used by Jasper's and Marco Polo's. If you do not like canned puree, you can substitute whole tomatoes, omit the water and puree the tomatoes in a food processor or by hand. Make sure you periodically stir the sauce and do not let the sugar burn or you will scorch the sauce.
4 tablespoons extra-virgin olive oil
1 medium onions, chopped
1 whole head garlic cloves, puréed
1 28-ounce can tomato purée (Used 2 cans of S & W Ready Cut Italian Recipe Tomatoes with
Garlic, Oregano and Basil) two 14.5 cans – Pureed in the Bullet.
3 1/2 cups water- Not necessary if you use above cans…
1 teaspoon salt
1/2 teaspoon red pepper flakes
2 tablespoons fennel seeds- I used only 1 Tablespoon – Plenty
2 tablespoons sugar- I used 1 ½ tablespoons…I don't like sweet.
10 to 12 fresh basil leaves-used tube basil and it worked fine
1 pound Joe's Kansas City Bar-B-Que pulled barbecue pork- Used Pete's pulled pork
Heat the olive oil in a 4-quart pot over medium heat. Add the onions and sauté until translucent, about 15 minutes. Add the garlic and remove the pan from the stove. Add the tomato purée and water and mix thoroughly.
Stir in the salt, red pepper flakes and fennel seeds and cook for about 1 hours, adding the sugar and basil after 45 minutes. At that time you can add the cooked pulled pork. Simmer 15 minutes and serve over pasta.
Chef Jasper J. Mirabile Jr. of Jasper's runs his family's 59-year-old restaurant with his brother."
The only change I would make to this is the pasta. Penne pasta, linguine, or even spaghetti noodles would be great. My choice is the Penne. The noodles we used were too big.
The sauce: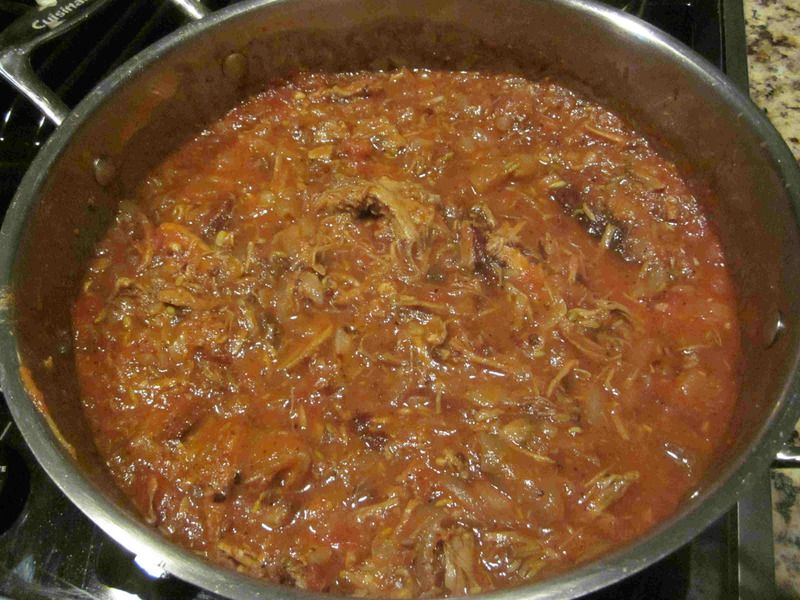 Dinner: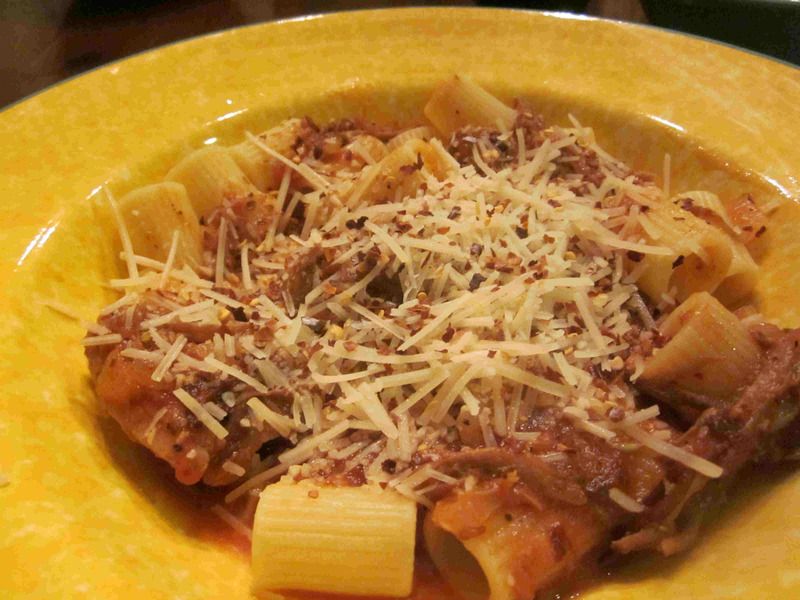 Thanks for looking.
Edit, had it again last night and an updated picture (all the dead links from PB) with penne pasta, this stuff is so good, really.