Here at Smoked-Meat we strive to have the best Pitmasters on the net. With that comes growth and taking on new adventures, even to modify their meats! This is to salute those that have not only embraced the world of sausage making, but have created perfection with their ideas, techniques and recipes along with helping others on there quest to become a sausage head.
So from us here at Smoked-Meat we would like to acknowledge our Smoked-Meat Sausage Head's
Feel free to add the text in your signature line that you are a Smoked-Meat Certified Sausage Head.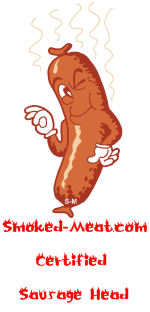 Class Of 2010
Fishawn
DangerDan
Kingudaroad
Erain
curious aardvark
Gunslinger
Mulepackin
salmonclubber
bb53chevpro

Class Of 2011
Critterhunter
DanMcG
Gratefuldave

Class Of 2012
Hoser
MinnBill
Butcher
Meat Hunter
Big Guy
DeejayDebi
Checkered Past

Class Of 2013
devo
Smoke Doc
BIGGLOPEZ
Mark R

Class Of 2014
Sam3
Walle
Nicklemore
TasunkeWitko
Bama BBQ
Charcuteryan

Class Of 2015
Snarlingiron
Ryan
redruff
dward51

Class Of 2016
Kicken Asphalt
Bama BBQ
barkonbutts