Here at Smoked-Meat we strive to have the best Pitmasters on the net. With that comes growth and taking on new adventures, even to modify their meats! This is to salute those that have not only embraced growing and utilizing a variety of peppers, but have created perfection with their ideas, techniques and recipes.
So from us here at Smoked-Meat we award you with the prestigious Smoked-Meat Pepper Head Award.
Feel free to add the text in your signature line that you are a Smoked-Meat Certified Pepper Head.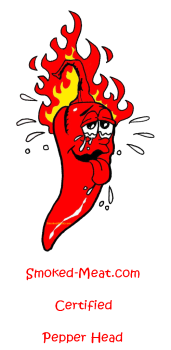 Smoked-Meat.com Pepper Heads

Richoso1 (Gone but not forgotten) R.I.P.


Class of 2013

barkonbutts
SMOKE FREAK
SQWIB
Wingman
MrZip66