One of my technicians at work brought a jar of these refrigerator pickles in one day last week. Took me a week to get the recipe from him. No worries it aint a super secret recipe and I told him I was gonna share it and he said no worries.
So if you have cucumbers in the garden or have access to some give this a try. It is so easy and you can whip up a batch in no time. The ingredients are all common and you prolly already have. Only thing I had to buy was the vinegar cause I was out. Anyway we have some cucumbers...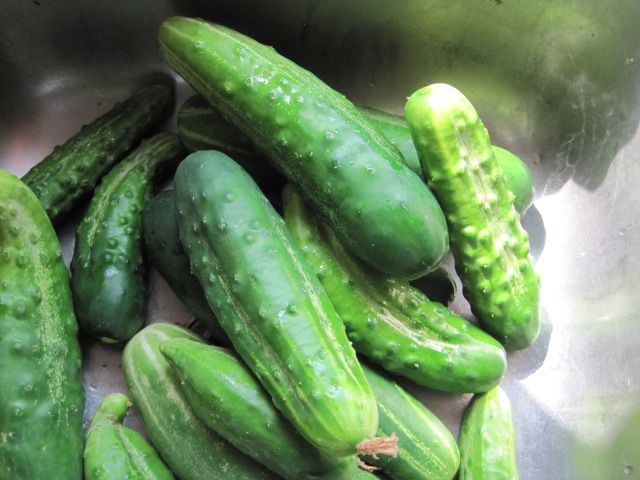 Slice up 5 cups worth nice and thin, along with a medium onion. Put in a big container, I used an ice cream pail.
Add 1 tsp. turmeric, 1/2 tsp. celery seed, and 1/2 tsp. mustard seed.
In another container, mix 1 and 1/3 cups white vinegar, 1 and 1/3 cups white sugar, and 2 tsp. pickling salt. Whisk til is all dissolved.
Pour the Sugar/vinegar mix over the seasoned cucumbers/onion. Toss the cucumbers until all is well mixed, let set about 5 minutes and toss again. repeat until you can see the slices start to get limp. At this point divide into thirds and place in three pint jars. Pour leftover liquid into the jars and fill. Clean rim and cap off, i just used lids and bands.
By now you will have sampled them and will have a very difficult time with the last part of the recipe, at least I do anyway... The putting in refigerator and waiting 3-5 days is almost impossible but is worth the wait. And you are supposed to shake the jars at least once per day to help get the settled spices back in the mix... Hope a few of you try these out!
__________________
Charbroil SFB
GOSM
MES
Dutch Ovens and other CI
Little Chief, Big Chief, No Name water smoker
Weber 22" gold, Smokey Joe, WSM 22"
Smoked-Meat Certified Sausage Head