We found a recipe in a Taste of Home™ super market mini recipe pamphlet.
We put one together and the results were fantastic! An absolute do again dessert! Here's the recipe.
Pumpkin Cheese Cake
Crust
2 cups graham cracker crumbs
1/4 cup sugar
6 tbs butter
Filling
3 pkg (8 oz each)cream cheese,softened
3/4 cup sugar
3/4 cup packed dark brown sugar
1 can (15 oz) solid-pack pumpkin
1/4 cup heavy whipping cream
1 tsp cinnamon
1tsp ground cloves
5 eggs,lightly beaten
Topping
6 tbs butter softened
1 cup packed brown sugar
1 cup chopped walnuts
1. place a greased 9 in spring form pan on a double thickness of heavy-duty foil (about 18 in square).securely wrap foil around pan. in a small bowl,combine cracker crumbs and sugar;stir in butter . press on to the bottom and 1 inch up the sides of prepared pan.
2.in a large bowl, beat cream cheese and sugars until smooth. beat in the pumpkin, cream , cinnamon, and cloves until blended.add eggs; beat on low speed just until combined.pour over crust . place spring form pan in large baking pan;add 1 inch hot water to larger pan.
3. bake at 325° for 1 hour.for topping,in small bowl combine butter and brown sugar. stir in walnuts. carefully sprinkle over hot cheese cake.
4. bake 30 min longer or until center is just set. remove spring form pan from water bath. cool on a wire rack for 10 min. carefully run knife around edge of pan to loosen;cool 1 hour longer . refrigerate over night .
yield 12 servings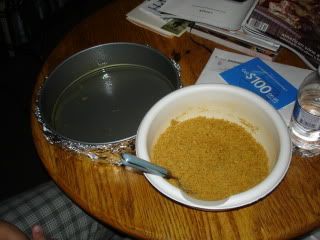 The crust ingredients put together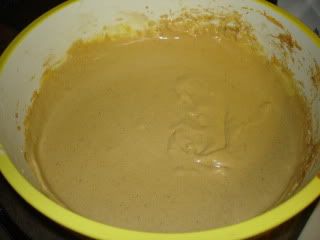 pumpkin, cream cheese, sugars, cinnamon, cloves and eggs beat together.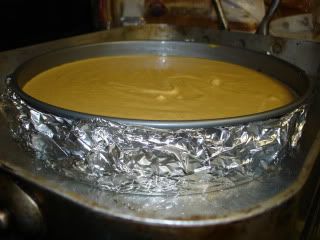 Poured in spring form pan over crust.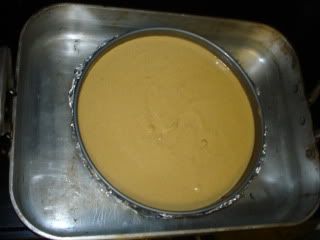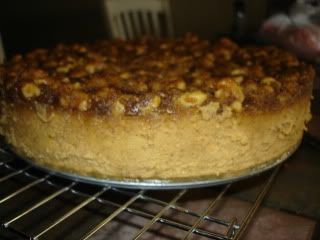 cooling on the wire rack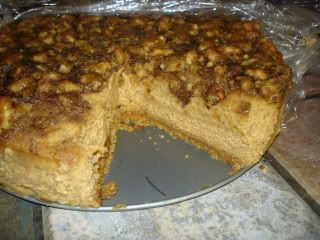 Some seriously good biz going on with this un!
Thanks for looking.