Editor's note: Any questions on this thread should be asked in a new thread. Any additional info on tips/techniques as well..and will be added as required. Enjoy and THANKS Dan and other contributors!

OK-it's time for some attention to my good friend CHUCK!
We get alot of interest in pork butts and briskets and ribs, but this lonely guy is tops in my book. I think its high time to give some kudos to the "lonely chuck".
This one is 20.54 lbs, and is classified as a "shoulder clod"
And his brother is 23.4 lbs and lookin pretty stout.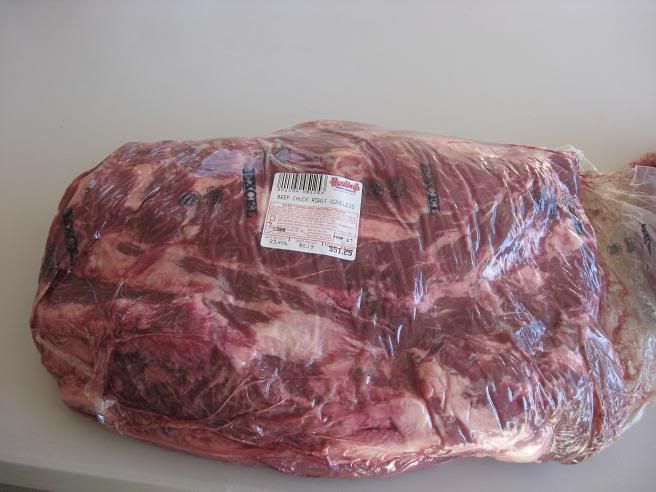 Now these two are a couple of real good friends of mine and we have made some great smokes together. I really like them better than their brother Packer B.
This is how they look with nothing on...............
The Chuck roll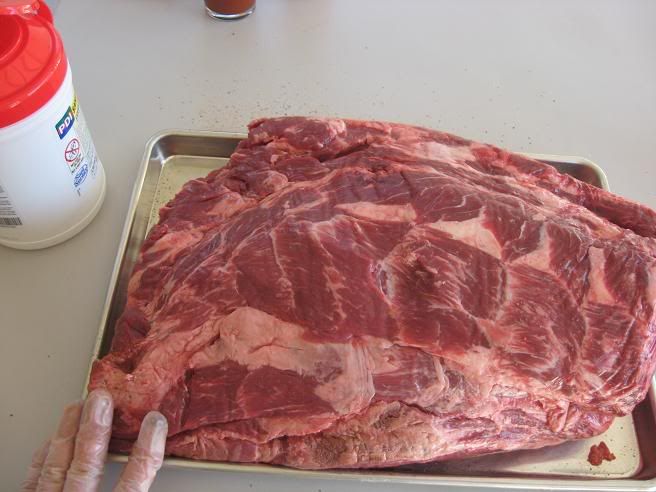 And here is mr. clod, different animal, excellent taste as well.
OK so these guys were injected with the marinade in the red wings glass(super secret chit) and here is a quick look at mr clod with a rub on him.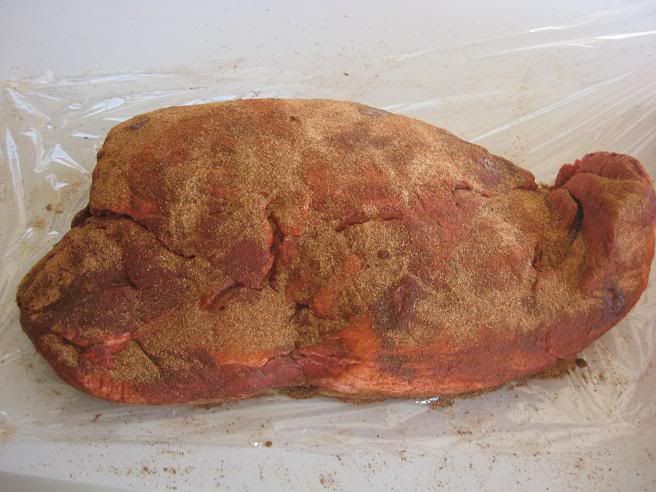 These two boys get to rest overnight in their plastic pants!
Allright, thats enough of this nonsense till morning. They are going into the grip of the Lang at 00dark thiry on sunday am. Soon after they will be acompanied by a few racks of pork Baby backs. A guess on timing: we are lookin at a 12-14 hr smoke and then a 1-2 hr rest.
Here is pic of the chucks on the Lang at 5 am.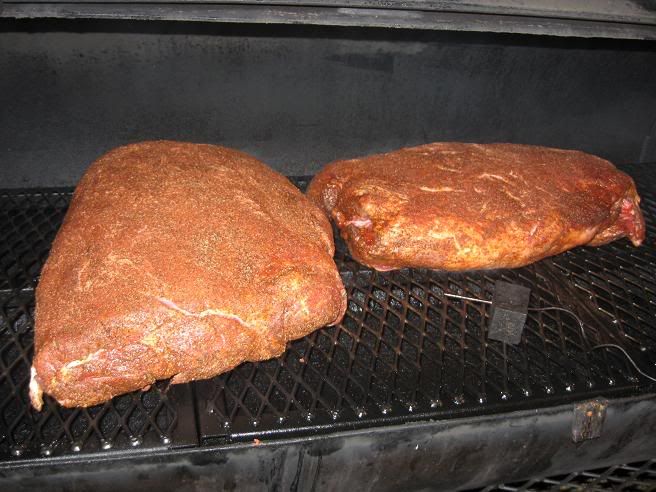 the meat didn't shed any of the injection, so I am real happy about that. The wrap did a god job setting the rub.
Here is a couple pics at the 3 hr mark. The chuck roll is the wide chunk, and clod is on the right.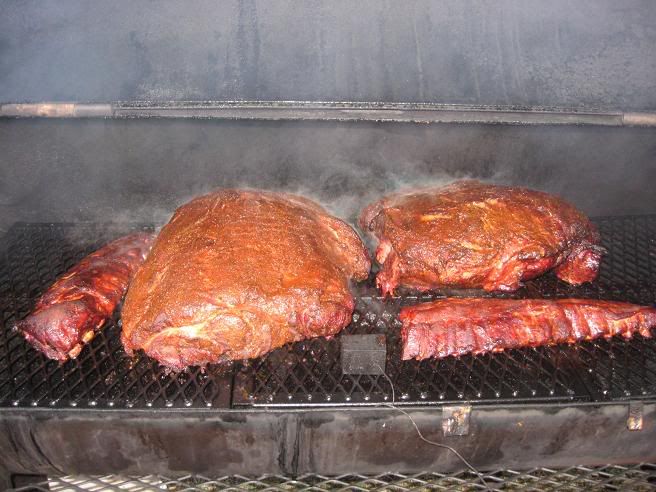 These two are just an hour or so away from the pan- at the 8 hr mark.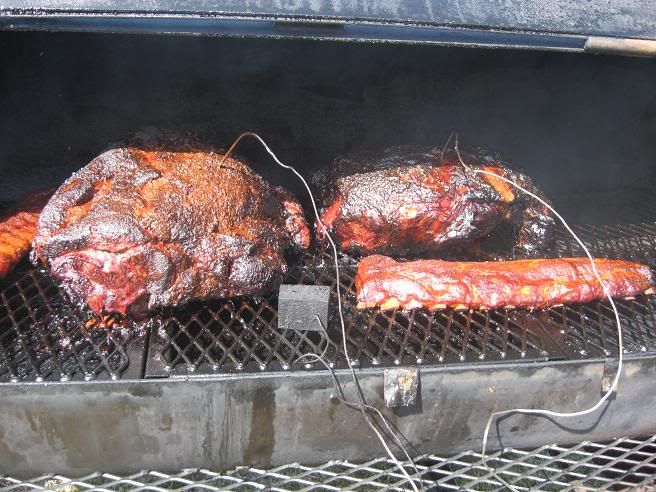 Internal temps are running at 165- and 169. I will take them to around 205 for pulling.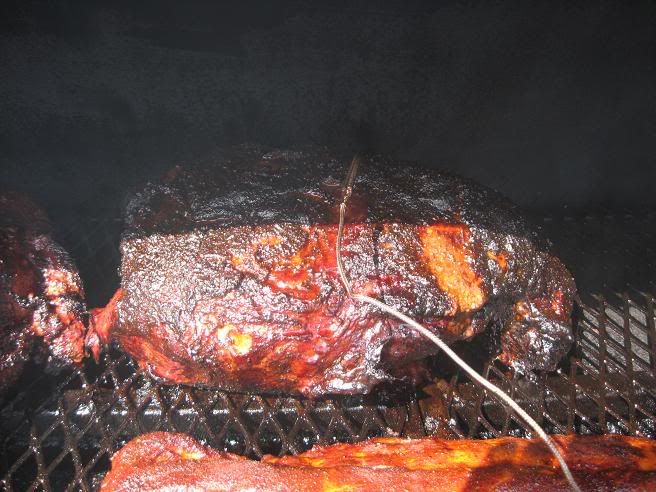 The clod is off and pulled, the roll is resting right now after 15 hrs in the pit for it, 12 hrs for the clod. I had company around for the pulling of the clod. They were eating as fast as I was pulling and shredding. It was funny. They finally gave up on trying to keep up. I got 1 and 3/4 half pans out of that 20.4 lb clod. Great return. Taste was great as was the texture and smoke ring.
Here is the clod- great bark and flavor.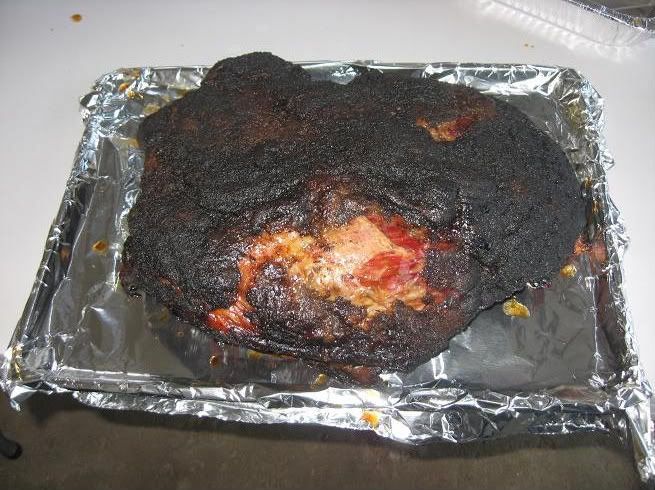 Three hours later this big bad boy came off the pit, and after 90 minutes rest here it is in the pan.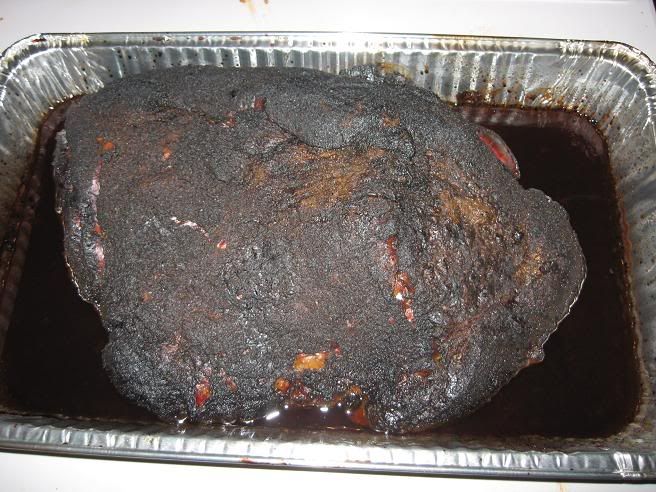 Out of the pan, almost broke in two!
very hot!!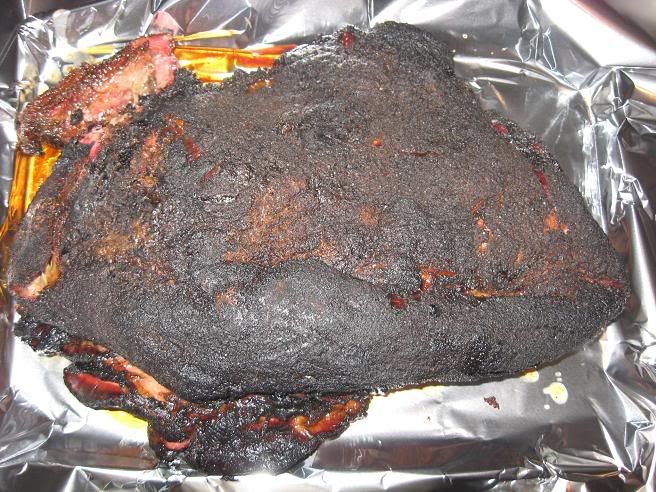 and finally the finished tub of shredded beef, with some of the seperated juices mixed back in.
Hope this has been of some help for those who have never smoked a chuck roast. The clods and chuck rolls are not gonna be in the meat display. They are the large cuts that chuck roasts, english roasts, chuck steaks, ground chuck, chuck eye steaks are all cut from. The butcher gets them in these large portions and then cuts then to what is desired for the display case. If you want one, you may have to have a talk with your butcher.
Another resident chuck expert BBQBubba says:
Quote:
Originally Posted by
Bbq Bubba
Great Tutorial Dan! Once you smoke one of these bad boys, you'll never do a lil Chuck roast again!
Only thing i will add is that Worsy sauce works GREAT with Chuckies.
I make a slather of Worsy, finely chopped garlic, Kosher salt and Black pepper.
Rub that on as the pits coming to temp and if you'd like to spritz, try the Worsy for that also, adds another depth of flavor to the shredded beef!
These things are huge!
Could only get 1 1/2 of em on the drum!
Well worth the time involved...
Walking Dude has a quetion...I referred it to a pro...

Quote:
Originally Posted by Walking Dude
couple questions.......is the chuck then NOT treated like a butt or a packer per the @1.5/lb? Specilly taking it to 205?

if you wanted to slice this thing, what would the internals be?

and outta the primal, whats the best chuck cut for slicing? They have SO many of em....
T-Bone Tim, the resident butcher says-
Quote:
Originally Posted by
T-bone Tim
1st ... I would treat these cuts just like a packer or butt , IMHO.
2nd ... for slicing I would suggest no more than 155*internal , lower for rarer.
3rd ... the best for slicing IMHO , is the clod ( a.k.a. boneless cross-rib ) due to it having less internal fat , and a finer more dense muscle fiber .
The boneless blade ( chuck eye roll ) would be the best for pulling due to it having more internal fat marbling .
If you buy the whole clod as Capt Dan did , keep in mind that on one side it will have a heavy gristle piece ( part of the flat-iron ) left attached to it.This gristle will need to be removed either before or after cooking , this end will not look pretty if sliced , better for pulled .
If you can buy the clod heart , which is the center portion of the clod , with the flat-iron trimmed off , it will be far better for slicing .
and last thing I have to add is , I like to smoke the cross-rib to an internal of 145* , let it cool and slice thinly on a slicer ...makes awesome steak sammies on a toasted garlic bun with some pepperjack
Editor's note: For a continuing excellent discussion on the art of the chuck... see here

http://www.smoked-meat.com/forum/showthread.php?t=1732