I pounded out a boneless/skinless chicken breast till it was ¼ inch thick, and then I marinated it in buttermilk overnight.
I then layered Swiss cheese and ham slices on the breast, finally placing the chile relleno on top. I folded the breast in half, and dusted it with Panko breadcrumbs. I sprayed the breast with Pam just as it went into the smoker.
The breast went into a preheated GOSM set at close to 350°, using lump and a cherry wood chunk.
When internal temp hit 170° and the crust looked right, I removed it from the smoker. After it cooled down, I plated it on a bed of wild rice that I used Lipton's chicken soup for liquid.
I finally topped it with a chorizo-pepper jack cheese sauce. I put a small amount of chorizo into a pan to render the fat, then I removed some of the chorizo and added flour while stirring, when it came together I then added half and half, and then the pepper jack cheese. I then stirred it until it smoothed out.
Thanks for viewing my dish, smoke and seeds forever.
__________________
GOSM Big Block
Weber 22 1/2 in. grill
Brinkman all-in-one charcoal and gas
Pepperhead Award posthumously-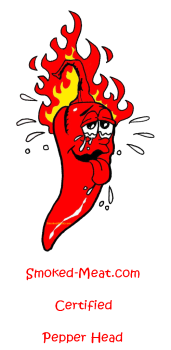 Miss you Rich- How's the ABT's up there?